The Last Goodbye – A Virtual Reality Experience
The Last Goodbye is an award-winning virtual reality experience that transports viewers inside the Nazi death camp Majdanek in Poland with Pinchas Gutter, the only member of his family of four to survive the Holocaust. The fully immersive experience enables visitors to virtually walk with Gutter as he travels in life-sized projections of the camp, including the railway car, gas chamber, shower room, and barracks of Majdanek.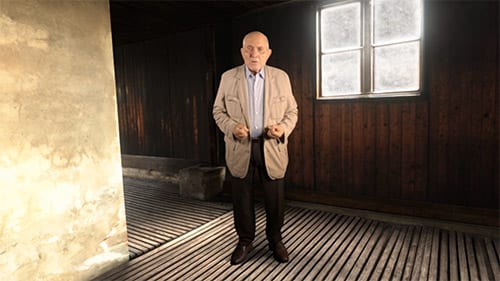 The experience was created by the USC Shoah Foundation and is debuting in four museums across America including the Illinois Holocaust Museum, The Florida Holocaust Museum, the Los Angeles Museum of the Holocaust, and the Museum of Jewish Heritage in New York.
This experience is sponsored by Eve and Richard Biller in memory of Maxine Simon and Edwin Geisenheimer.
Media Coverage
"The Last Goodbye"
Testimony by PINCHAS GUTTER Created by GABO ARORA & ARI PALITZ Produced by STEPHEN D. SMITH Co-Produced by USC SHOAH FOUNDATION, HERE BE DRAGONS, MPC VR and OTOY Producers TIM DILLON, JONATHAN DOTAN, PATRICK MILLING-SMITH, SAMANTHA STORR, CHRIS MILK Original Soundtrack by DRAŽEN BOŠNJAK of Q Department Edited by JENNIFER TIEXERA. Installation Experience by DAVID KORINS Executive Producers KATHY and RICHARD LEVENTHAL