Over the course of three generations, a massive field of testimony, documentation and interpretation has grown around the Holocaust, and the question is now being asked, "How will this history be remembered and taught not as a static picture of the past, but a dynamic task for our future?"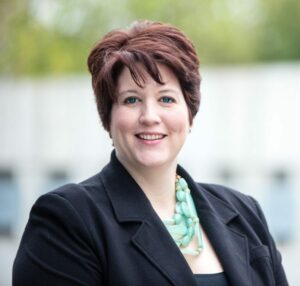 Illinois Holocaust Museum President Fritzie Fritzshall was thirteen years of age when she and her family were forced to leave their home in Klucarky, Czechoslovakia, deported to Auschwitz-Birkenau. Fritzie arrived and one man, wearing a striped uniform, brushed by the children, whispering in Yiddish, "You are 15. Remember, you are 15." By pretending to be older, she was spared certain death. Her Aunt Bella who had arrived at the camps a few weeks before, offered Fritzie a second saving grace, trading her food to move Fritzie to her barrack, where every night she held Fritzie, and told her that tomorrow would be better. While her aunt saved Fritzie's life she could not save her own. Within a few weeks of Fritzie's arrival her aunt was murdered in the gas chambers of Auschwitz.
Friztie's story is just a fragment of a much longer journey, but it reflects a pattern so often found in many Holocaust accounts –the abject brutality of the Nazis and their collaborators, a brave and desperate act of kindness by people risking their own lives, the will and determination to live, and an unbelievable strength that saved one young Jewish woman during the Holocaust, who now has committed her life to remembrance and education.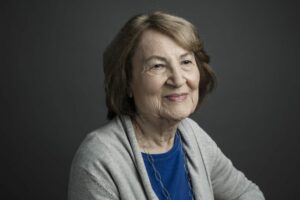 Fritzie's story also speaks to the ultimate purpose of Holocaust memory, and ultimately sites like Illinois Holocaust Museum, and it is this: – "to tell the story."  Each one of the victims we remember represents a story, a human life, albeit a story and life cut short. Years from now, it is these individual stories, and the stories of those who survived, along with the lessons they each implore us to learn – the complexities of human behavior, the legacies of prejudice and discrimination, and the destructive force of indifference – that we must continue to teach. Indeed, Illinois Holocaust Museum and institutions from across the world are deeply engaged in preserving the stories of Holocaust survivors while there is still time to do so. It is for this reason that our Museum has recorded testimony, trained the children and grandchildren of Survivors to speak, and in association with USC Shoah Foundation developed interactive Survivor technology. This work allows us to share these stories and lessons in the most personal, engaging, and meaningful ways.
Today, it is at this complex intersection of the past and future that we stand. More than seventy-four years after one of darkest chapters in history, where 2 out of 3 Jews in occupied-Europe were murdered, we must also remember our obligation as guardians of memory.  To remember a world where Fritzie through the kindness of others survived, and to tell the extraordinary stories of resistance, hope, luck, resilience and ultimately survival that took place in the face of unbelievable evil. To remember the sparks of light that fought against inhumanity. May we remember each of these accounts, be inspired, and continue to tell the stories and the lessons they teach us for generations to come.
Kelley Szany, Vice President of Education & Exhibitions and Member, State of Illinois Holocaust & Genocide Commission